The Hawker 800XP boasts as the largest cabin in its class. With 6 ft wide cabin and a flat floor, the Hawker 800XP is elegantly designed with comfort in mind, to meet the desires of passengers.
The Challenger 604 offers passengers a productive in-flight experience. This mid size aircraft features berthable articulating seats, generous stand-up space and large windows designed for optimal cabin lighting.
The Gulfstream G450 is spacious and comfortable for longer flights. It's cabin is renowned for sophistication, comfort and productivity.  It offers fully reclining chairs or divans, forward or rear lavatory, fully sized gallery, large in flight accessible baggage compartment.
The Gulfstream GIV-SP is capable of transporting 13 passengers along with 2 crew members. The aircraft includes a lavatory at the end of its 45ft long cabin inside its nearly 90ft long fuselage. The shape of the cabin walls allows for increased room as a passenger is seated, increasing available comfort.
Total cabin space is nearly 1,660 cubic feet of space, allowing for a width of 7ft and a height of 6ft. Typically each person receives 65 cubic feet of space. The entry door is 5ft tall and baggage is allotted 170 cubic feet of space all accessible in an internal unit.
Take a closer look at our most popular aircraft models.
Beyond our designated fleet
Our Ezumajets Preferred Operator Network, giving our customers access to private jets across, covering the full spectrum of cabin classes from light to large cabin.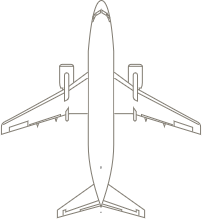 VIP airliners provide the most considerable amount of space and amenities of all Airbus & Boeing Aircraft families, featuring customized interiors, usually including a private bedroom. Usually used by sports teams or VIP travel, they can comfortably carry from 19 to over a hundred passengers on ranges up to 5,500 – 7,500 miles.
Airbus 319
Boeing 737-500
Dornier 328
Lineage 1000
Boeing BBJ
Airbus ACJ
Ultra-long range aircrafts are designed explicitly for flights over 12 hours. Typically carrying from 8 to 19 passengers they make an excellent choice for non-stop intercontinental travel in medium size groups. They are the newest category of aircraft to enter the marketplace.
Global 5000
Global 6000
Global 7000
Global Express/XRS
Falcon 7X
Falcon 8X
G V
G-500
G-550
G-600
G-650ER
G-650
Similar in capabilities to large commercial aircrafts, heavy jets are the preferred mode of travel on intercontinental flights. Aircraft in this category can comfortably carry 8-18 passengers, with ranges varying from 2,000 to over 4,000 miles, up to approximately 4 to 10 hours of flight time.
Challenger 601
Challenger 604
Challenger 605
Challenger 850
Falcon 2000
Falcon 2000EX
Falcon 2000LX
Falcon 900
Falcon 900EX
G IV
G IV-SP
G-350
G-400
G-450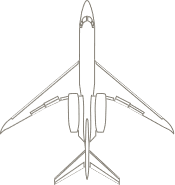 Super mid-size jets are the ultimate cost-effective choice for longer flights as they are equipped with most of the amenities found on larger jets and are designed to accommodate passengers and luggage comfortably. They can typically accommodate 8-10 passengers on distances of 2,000 – 2,500 miles non-stop.
Challenger 300
Challenger 350
Citation Latitude
Citation Sovereign+
Citation Sovereign
Citation X+
Citation X
Falcon 50
Falcon 50EX
G-200
G-280
Hawker 1000
Hawker 4000
Legacy 450
Legacy 500
Mid-size aircraft enable comfortable travel for longer flights of up to 4 hours non-stop. All models within the class are equipped with lavatories and often times with a divan. Mid-size jets can typically accommodate 5-9 passengers on distances of 1,500 – 2,000 miles non-stop.
Citation Excel
Citation III
Citation VI
Citation VII
Citation XLS+
Citation XLS
G-100
G-150
Hawker 700A
Hawker 800
Hawker 800XP
Hawker 900XP
Learjet 60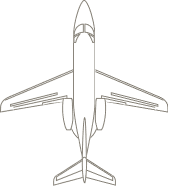 Light business jets can typically seat 5-6 passengers comfortably and are often equipped with reclining seats and air conditioning. They are best for short-range trips – up to about 1,000 miles non-stop or about 1 – 2 hours contingent on the number of passengers and weight on board.
Beechjet 400
Citation Bravo
Citation CJ1+
Citation CJ1
Citation CJ2+
Citation CJ2
Citation CJ3
Citation CJ4
Citation Encore
Citation Encore+
Citation II / IISP
Citation I / ISP
Citation Jet
Citation Mustang
Citation S/II
Citation Ultra
Citation V
Citation M2
Hawker 400XP
Honda Jet
Learjet 35A
Learjet 40/XR
Learjet 45/XR
Learjet 55
Phenom 300
Premier I
This category is perfect to access small airports with shorter runways. Carrying 4-5 passengers and equipped with minimal amenities, entry-level jets are a great choice for shorter flights under 750 miles. The maximum takeoff carry weight is typically under 10,000 pounds.
Mustang
Citation Mustang
Citation M2
Citation CJ1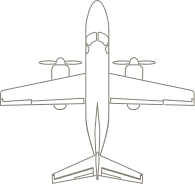 Turboprops are most efficient in low altitudes and speeds under 450 mph which make them a cost-effective option for flights under two hours and landings at airports with short runways.
King Air 90
King Air 200
King Air 250
King Air 350
PC-12